Welcome to the Man in the High Castle Wiki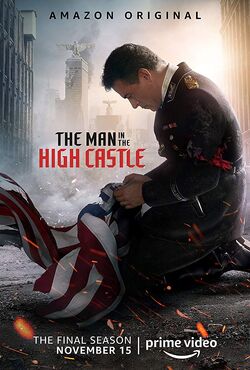 The Man in the High Castle is a television series that ran from November 2015 to November 2019. It is based on the 1962 novel of the same name by American science fiction author Philip K. Dick.
The story is set in an alternate history of the world in which the Axis powers won World War II. The United States and Canada have been partitioned into three sections - The Japanese puppet state known as the Japanese Pacific States, which comprise the former United States west of the Rocky Mountains, a Nazi puppet state known as Nazi America that comprises the eastern half, and a Neutral Zone that acts as a buffer between the two.
The series stars Alexa Davalos and Rufus Sewell as Juliana Crain and John Smith respectively. They, along with many others, are caught up in a series of events spurred by the ongoing political struggles between the two superpowers, as well as a mystery surrounding a set of films that could change the balance of power across the world.
Spoiler Warning
Critical information regarding the series may be found all across the wiki. Browse around the wiki at your own risk.
---

---
---
---
About the Wiki
We're an encyclopedia run and maintained by people just like you! Created by fans, for fans, the Man in the High Castle Wiki is dedicated to building a comprehensive and informative resource about the Amazon Prime series.
Want to share your knowledge? Sign up for a free account and start editing today! Please read over the wiki policies for guidelines on editing.
---
---