Attention Needed - Article Stub
This particular article is still lacking the necessary information, images, and/or general formatting.
You can assist The Man in the High Castle Wikia by improving it.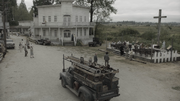 Sabra is a secret Jewish community established in the Neutral Zone, nearby Denver, along with a Catholic community called Saint Theresa.
Inhabitants