Attention Needed - Article Stub
This particular article is still lacking the necessary information, images, and/or general formatting.
You can assist The Man in the High Castle Wikia by improving it.

A list of all characters who only appear briefly or otherwise do not have enough information to warrant their own articles.
Adolf Eichmann
Otto Adolf Eichmann was a German SS-Oberst-Gruppenführer
He was planning the invasion of Japanese Pacific States with massive carpet-bombings. John Smith disliked this plan and stated that this would destroy most of the important infrastructure on the West Coast, to which Eichmann responded that it would be a swift and quick victory for the Reich.
Eichmann, alongside Himmler, J. Edgar Hoover and several others were killed by John Smith's and Wilhelm Goertzmann's coup.
Bill Crothers
Bill Crothers was the husband of Laura Crothers and Frank Frink's brother-in-law.
When his wife and children were killed on the orders of Takeshi Kido in an effort to compel Frank to cooperate with a Kempeitai investigation, Bill blamed his brother-in-law for their deaths.
Buddy
Buddy was the son of Rita Pearce. He was like a surrogate son to Joe Blake. While away to the Neutral Zone, Joe brought him back a book to read. He was portrayed by Carter Ryan Evancic.
Carl
Carl owned a bookstore in Canon City.
Born in Salem, Ohio under the real name David P. Frees, he was incarcerated in the New Berlin camp before escaping in 1954. His true identity was uncovered by The Marshal, and he was subsequently killed.
Carl Weber
Carl Weber is the Ambassador of Nazi Germany to the Japanese Pacific States, and the successor of Hugo Reiss.
Don Warren
Don Warren was the manager of "Famous Lariat Shipping & Moving", and a local leader of the American Resistance in New York City.
Warren gave Joe Blake the mission to deliver a copy of "The Grasshopper Lies Heavy" to the Neutral Zone, unaware that he was an undercover Nazi agent. Warren was captured by Nazi forces commanded by Obergruppenführer John Smith and interrogated, before being beaten to death at Riker's Island Prison.
Doni
Doni is a young Japanese resident of San Francisco. He is in the same aikido class as Juliana Crain and seemed to have a crush on her.
Emily Crothers
Emily Crothers was the daughter of Bill and Laura Crothers, the sister of John Crothers, and Frank Frink's niece.
On the orders of Takeshi Kido, John, Emily, and their mother were murdered, in an effort to compel Frank to cooperate with a Kempeitai investigation.
Note - Character appears in a dream in the episode Land O' Smiles.
Fatima Hassan
Fatima Hassan is a Traveler from another parallel universe. She was captured by the Nazis, who discovered that she's from another parallel world. Before John Smith can interrogate her, Hassan is forced to escape the Nazis, by teleporting herself back to her homeworld, before disappearing in thin air.
Gerald Adler
Gerald Adler is the Husband of Alice Adler. After diagnosing Thomas Smith with Muscular Dystrophy (in the Reich, by law, all victims with non-curable diseases are to be euthanized), he gave John Smith the choice to euthanize him personally. John initially refused to do so, with Gerry warning him that he will do it himself if he does not go through with it soon. In the end, John meets with Gerry in his car, under the guise that he had gone through with it. Instead, he quickly injects the euthanasia substance into Gerry, killing him.
Glenn Pickel
Glenn Pickel is a citizen of the Greater Nazi Reich who was born in Chicago. He appeared on the television game show "Guess My Game". Pickel was a member of the Hitler Youth in his childhood.
Henry Collins
Henry Collins was an American-born Nazi and the Minister of Information for Nazi America
At the beginning of the series, he is happily married with his wife, Lucy. However, the two have had difficulty producing a child, a serious problem, given the value the Reich places on fertility. Julianna Crain aids the American Resistance in kidnapping Lucy (who had recently discovered that she was pregnant) and forcing Collins to reveal on air that Adolf Hitler was in fact dead. Collins was executed during his broadcast.
Hirohito
Hirohito is the Emperor of the Japanese Empire.
Jason Meyer
Jason "Doc" Meyer is a member of the American Resistance. He worked closely with Don Warren out of New York City. His parents were killed in the Cincinnati Camp in 1951.
John Crothers
John Crothers was the son of Bill and Laura Crothers, the sister of Emily Crothers, and Frank Frink's nephew. On the orders of Takeshi Kido, John, Emily, and their mother were murdered, in an effort to compel Frank to cooperate with a Kempeitai investigation.
Note - Character appears in a dream in the episode Land O' Smiles.
Karl Müller
Karl Müller was a Sturmbannführer of the Schutzstaffel sent to San Francisco to assassinate the Crown Prince of the Japanese Empire by Martin Heusmann in order to provoke a war between the two empires.
Nearly a week after the botched assassination attempt, the Kempeitai break into Müller's hotel room, where they discover the sniper rifle used to shoot the Prince. Müller accepts the crime and agrees to give a confession, but is then shot and killed by Chief Inspector Kido.
Katie Owens
Katie Owens rode the bus from San Francisco to Canon City with Juliana Crain. During a stopover, Katie stole Juliana's bag.
Kurt Scausch
Kurt Scausch is a member of the SS. He works at the Nazi Embassy in San Francisco alongside Ambassador Hugo Reiss.
Laura Crothers
Laura Crothers was Frank Frink's sister, the wife of Bill Crothers, and the mother of John Crothers and Emily Crothers. She and her children were killed on the orders of Takeshi Kido in an effort to compel Frank to cooperate with a Kempeitai investigation.
Note - Character appears in a dream in the episode Land O' Smiles.
Lautz
Lautz was an SS-Hauptsturm­führer and was presumably a important member of the American Reich SS main office. His car, along with Smiths car had been attacked by presumed resistance members (it was later discovered to have been planned by Reinhard Heydrich). Smith survived, but Latuz was not as lucky.
Margarete Himmler
Margarete Himmler is the wife of Heinrich Himmler.
Mike Bolden
Colonel Mike Bolden was a former U.S Army Colonel serving as an intelligence officer in the 9th Signal Corps. He was among the first to collaborate with the German Reich after the United States' defeat in the Second World War, convincing his peers; John Smith and Bill Whitcroft to also join the Reich. After pledging his loyalty to the Reich, he arrives with food and milk and Nazi armbands for John and Bill telling them that they will be given good positions in the Reich if they join but if they refuse, they will face the consequences. John and Bill agree leaving their fellow friend and soldier Daniel (a Jew) to try and run for his life. When the BCR's terrorist attacks in the Pacific States prove successful leading to the Japanese deciding to withdraw, He is recorded expressing his doubt about the Reich and the possibilities that the BRC might attack the American Reich eventually. This is kept secret by John, Bill and Hoover.
Mishima
Mishima is a detective for the Kempeitai.
Randall Becker
Randall Becker was a member of the American Resistance who gave The Grasshopper Lies Heavy newsreel to Trudy Walker. He is later captured by the Kempeitai and subsequently tortured by them, eventually confessing his role in the transportation of the newsreel and Juliana Crains involvement. However, when a woman is caught carrying the newsreel which she has previously stolen from Julian, the Kempeitai initially believed that it was only a scheme and continued to torture Becker for information. Upon the realization that he would be executed before sunrise regardless, Becker shouted to Frank to "never give into them" before being taken to the execution squad.
Raymond Doyle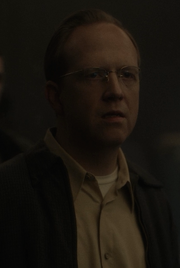 Raymond Doyle is a citizen of the Japanese Pacific States, who holds a grudge against Kempeitai Chief Inspector Takeshi Kido for oppressing many innocent American people.
He, alongside two other men, attempted to lynch Kido, but was stopped by Bell Mallory and other members of Black Communist Rebellion, who told that there would never be any lynching on American soil ever again. Doyle and his men later demanded again that the BCR would hand Kido over to them, who refused, stating that he would get an fair trial. Doyle then claimed that the Nazis would arrive soon and send all blacks to concentration camps, based on flyers dropped by the Luftwaffe.
Eventually Doyle and his men managed to break into Kido's, attempting to shoot him. The Chief Inspector managed to surprise them, knocking Doyle out and taking his rifle before escaping.
Rita Pearce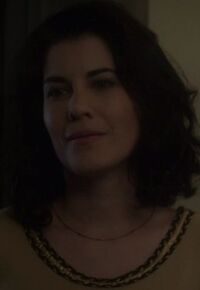 Rita Pearce was the significant other of Joe Blake, and shared an apartment with him in New York City. She has a son, named Buddy, who views Joe as a surrogate father. She was portrayed by Jessie Fraser.
Shimura
Shimura is the science minister of the Japanese Empire.
Susan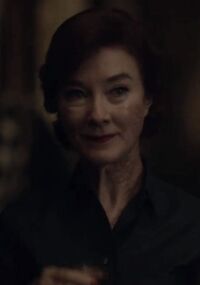 Susan was a member of the American Resistance based out of New York. She tried to kill Juliana but was strangled by her instead.
Tod Metzger
Tod Metzger was an American SS-Sturmbannführer who succeeded Erich Raeder as John Smith's right-hand man. He was killed by the American Resistance while trying to protect his boss.