Attention Needed - Article Stub
This particular article is still lacking the necessary information, images, and/or general formatting.
You can assist The Man in the High Castle Wikia by improving it.
| | |
| --- | --- |
| | There is an image gallery for |
"

"I got to know a woman who would bet on the best in us, who bet on people, no matter what the world said about who they were, who they should be. That woman would do anything to save a sick boy—a Nazi boy, even—because she would believe he deserved the chance, as slim as it might be, to live a valuable life...Millions of people will live because of the choice you made. The goodness in you, Juliana.

"

~ Hawthorne Abendsen
Juliana Crain, sometimes called 'Jules' by family and friends, is the daughter of Anne Walker and her late first husband John Crain. She's also the older maternal half-sister of Trudy Walker, and the stepdaughter of Arnold Walker. She is an American who has lived most of her life in the Japanese Pacific States as a subject of the Japanese Empire, but has gotten involved with the Resistance and the Man in the High Castle and may prove key in preventing the Greater Nazi Reich from laying waste to the entire world. She is also one of the main characters of the novel and the TV series.
Biography
Early Life
Juliana was born to John Crain, an American soldier who died during the war, and his then-wife Anne Crain, who would later remarry his friend and Army buddy Arnold Walker. Juliana was alive when the Japanese invaded, and since her mother often wasn't around, she would look after her younger sister, Trudy. She grew up in the Japanese Pacific States, and did not have the same hatred of them her mother did.
However, at some point, she felt alone, depressed, and without hope and stepped in front of a bus in a suicide attempt. Frank met her in the hospital while volunteering or visiting his friend Ed who had a lung condition. Frank helped her recover, and it's hinted in season 2 that she may be infertile because of the 'accident'. Afterwards, she frequented an Aikido Dojo and became exceptionally skilled at it, able to take down a man twice her size.
Requires Expansion
In San Francisco, she witnesses the death of her sister Trudy by the hands of the Kempeitai. Before dying, Trudy hands her a film. She goes home and watches the film, which shows what the world would look like had the Allies won the war. Frank walks in as she is watching the film and introduces the idea of the Man in the High Castle to her, before telling her to go to the police with the tape and tell her that she has no idea what she has, before she gets punished. Although reluctant at first, Juliana agrees and the next day, she leaves the flat telling Frank that she is going to drop by the police station and hand in the tape, and persuades him to stay home. She then gets on a bus, planning to go to Canon City and meet Trudy's contact. On her way to Canon City, a woman named Katie Owens incites conversation with her. After exchanging friendly banter, Juliana falls asleep. When she wakes up, she realises that her bag was stolen and sees Katie running away. Juliana attempts to follow her, but the bus driver does not let her leave, saying that if she gets off the bus, it will drive off without her. She gives up and sits back down and luckily, she had the film on her person even if she doesn't have the rest of her belongings. She reaches Canon City, where she meets Joe Blake. She eats a meal at a restaurant which she cannot pay for due to her bag having been stolen. Joe steps in and pays for her meal, and later plays for her place of accommodation.
Juliana goes in place of her sister Trudy and attempts to find her contact, which ultimately fails when The Marshall nearly kills her and Joe Blake. She returns to San Francisco to find her boyfriend Frank in trouble with the Kempeitai. They try to flee the Pacific States but fail twice as a result of interference with the Resistance. She betrays the Resistance and lets Joe Blake flee San Francisco, resulting in her getting locked up by the Resistance.
Captured by the Resistance, Juliana meets the "Man in the High Castle" after being sedated. He shows her his collection of films from alternate realities and asks her to identify a man spotted in most of them. After telling him that the man looks familiar but she doesn't recognize him, Juliana is shot in the arm by Gary, a Resistance member and passes out. She wakes up in the trunk of a moving car, and overhears the conversation between Lem, Karen and Gary about straying from their route to kill her and get rid of her body. She breaks out of the trunk while the car is passing Japanese soldiers, and narrowly escapes while a firefight breaks out.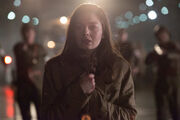 Juliana later defects to the Reich by going to the Nazi Embassy in San Francisco and asking for asylum by giving Joe Blake's name. After going through a series of detailed physical exams, Erich Raeder asks her a series of questions about her relationship with Joe and tells her to write down in detail what happened in the past two weeks, implying the events of season one took place in that time span. Obergruppenfuhrer John Smith accepts her request of asylum and personally handles her case, making sure she has an apartment, clothes and anything else she might need. In exchange, he's hoping to find out more about Abendsen, the 'Man in the High Castle', which Juliana wrote nothing about in her report, but whom Smith is sure she has met.
He offers her a fake name - Julia Mills, and also a fake life story, so that she remains safe and hidden from the Resistance. When asked if it's possible to see Joe, he replies by saying that Joe is away at the moment, and that when the time is right she will. Later, she meets Joe's lover Rita, who apologizes to her for Joe's infidelity. 
Juliana befriends Helen Smith and the other wives of high-ranked, important Nazis in New York. While attempting to meet George Dixon, she is followed and shot at by a Resistance operative. Dixon is revealed to working undercover as a phone technician, setting up wire taps for the Nazis. Nixon sets up a meeting in a park with her, and after revealing that she had seen him in the film depicting the destruction of San Francisco, she begins working with the Resistance. 
It is repeatedly shown that Juliana is uncomfortable with the racism of high ranking Nazi families, but their kindness towards her makes her feel guilty for spying on them for the Resistance. She finds out that the wife of a propaganda minister, Lucy Collins, has been trying to conceive a child for a while. Juliana tells Dixon about the information she gathered, and the two bond over a mutual familial love of Trudy.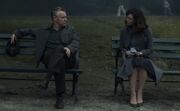 During the funeral for Doctor Gerry Adler, Juliana witnesses Thomas Smith having a seizure, revealing his illness. She also asks whether or not her friend (Ed McCarthy), would be allowed to live in the Reich. She is told he would not be. Juliana continues to gain the trust of Helen by discretely promising she would not reveal Thomas's illness, nor would she even tell John what she saw. John Smith visits Juliana unannounced and surprises her by asking about Hawthorne Abendsen, the Man in the High Castle. She covers the truth by telling him she was drugged, scared of Kempeitai and couldn't give him any information besides his name, the questions he asked, and the film she saw and gave to Joe Blake. Clearly rattled, Juliana asks Dixon to be smuggled out of the Reich, only to be denied, and told to go about her day.
After having the propaganda minister do exactly as he was told - telling Nazi America that Adolf Hitler had died, she went to the Resistance hide out, wanting to leave once and for all. Unknowing to Juliana, a hit was put on her life. Susan tried to kill Juliana, but Juliana was able to kill her first by strangulation. During this time George had changed into a Nazi uniform in his attempt to slip through the city and flee.
He had the audio film that told of Thomas Smith's illness, which would have gotten him killed if released by the Resistance. She begs George to stop and chases him in the alley, where she eventually has to shoot him - thus playing out the exact scene that was first shown in a film.
Juliana is taken to the Neutral Zone where she finally meets "The Man in the High Castle", whose real name is Hawthorne Abendsen. He begins to explain to her how the films are obtained and her meaning in the big picture of it all. In each film the scenarios and other people may change or be different, but Juliana is the same consistent one who they all revolve around. She is pure good who is always trying to do the right thing, as he points out with the tape of Thomas Smith. Eventually she becomes upset, realizing she had killed George and everything she had done was for nothing, and also that she was all alone. Abendsen tells her no and leads her outside, where her sister is standing on a dock, alive.
To be added
After escaping to another parallel universe, Juliana is wounded, but is helped by the alternate versions of John Smith and his son Thomas Smith. It is later revealed that this alternate world's Juliana Crain has died in a car crash, along with her parents, which is the reason how the original Juliana managed to travel to this world.
To be added
Appearance & Personality
Juliana is an intelligent albeit naive individual. She cares deeply for those around her, which often leads her into trouble. She is quite optimistic and, unlike Frank, believes wholeheartedly in the films and their ability to change life as she knows it.
She is an expert in aikido and is friendly with the Japanese people who live in San Francisco.
In conjunction with her caring nature, Juliana is also trusting of most people she believes to be good. This has gotten her into more than one tough situation.
Relationships
Juliana and Trudy seemed to be quite close, with Juliana welcoming her back with open arms the first time she sees her.
Juliana and Joe share a mutually beneficial relationship although there are nods towards their relationship being something more.
Appearances
Notes & Trivia
While in the alternate universe in Season 4, she befriends a man named Russ Gilmore. According to Juliana while talking to alternate Helen, she explains how this happened:

"Got to know him down at the stables. Turns out we both have a thing for Arabians."
References