Attention Needed - Article Stub
This particular article is still lacking the necessary information, images, and/or general formatting.
You can assist The Man in the High Castle Wikia by improving it.
"

You will take an early retirement, and all this will go away, will all be forgotten. Now, I hope that sounds good. Because the alternative; reeks of treason, execution and other unpleasantries.

"

~ Hoover, threatening John Smith
John Edgar Hoover (January 1, 1895 - c. March 1965) was the Director of the American Reich Bureau of Investigation, a Nazi America-based division of the Sicherheitsdienst until his death by stabbing by John Smith in Season 4.
Biography
Background
Hoover was still the Director of the FBI at the time the United States and its allies were defeated in World War II by the Greater Nazi Reich, finally being occupied, defeated and absorbed into the empire in the form of Nazi America by 1947. Presumably wanting to both save his own life and retain the immense amount of power he wielded as Director, Hoover decided to collaborate with the Nazis. Such a transition was probably not difficult, given his and the Nazi's shared distaste of communism and degeneracy and his preferences for violating civil liberties.
Accordingly, the FBI was then restructured into a Nazi America-based division of the Sicherheitsdienst, called the American Reich Bureau of Investigation (ARBI), with Hoover retaining his position as Director.
Hoover is seen to be in a close political relationship with Reichsmarschall George Lincoln Rockwell, the head of Nazi America. While working closely with Rockwell, he becomes involved in a conspiracy to expose John Smith's actions regarding his attempted cover-up of his son's illness. He provides Rockwell with detailed evidence documenting Smith's plans to have Thomas kidnapped in South America, and together they plot to reveal this information to Reichsfuhrer Himmler.
John soon finds out about this conspiracy and threatens Hoover with blackmail. Hoover then turns on Rockwell, withholding all evidence he has on John, leading to Rockwell being exiled to Cuba for treason.
Hoover successfully persuades Smith to allow the ARBI to set up a sophisticated surveillance system to continuously spy on every citizen of the American Reich. Unbeknownst to the Reichsmarschall, Hoover begins spying on members of the Smith family, especially his wife and his eldest daughter, who've been secretly disillusioned by Nazism. The ARBI sets up a variety of wire-taps all over Smith's residence without his knowledge, and later kidnaps and interrogates their maid for information.
Hoover then flies to Berlin to present the incriminating data to Heinrich Himmler under Adolf Eichmann's orders. However, he does not know that Smith and German Obergruppenführer Wilhelm Goertzmann have planned a putsch against Himmler and Eichmann. As Smith is summoned to Himmler's office, where he plans to kill him, Goertzmann's men eliminate all the members of the Nazi war command, including Eichmann. Hoover is left to be knifed to death by John Smith for his betrayal.
Appearance & Personality
Hoover is an ambitious, cunning, and opportunistic man whose talent for espionage has enabled him to rise through the ranks of the ARBI just as quickly as he did through the FBI in our timeline. He is perfectly at home in the political arena and knows how to choose the right allies to achieve his ambitions.
Relationships
To be Added
Appearances
Notes & Trivia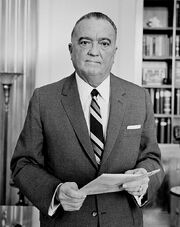 To be Added
References