Attention Needed - Article Stub
This particular article is still lacking the necessary information, images, and/or general formatting.
You can assist The Man in the High Castle Wikia by improving it.
"

It's treason to cover up your son's illness.

"

~ Rockwell, threatening John Smith
Reichsmarschall George Lincoln Rockwell was the head of state of Nazi America until Fall 1962. He was the direct superior of SS officer John Smith and Director J. Edgar Hoover of the ARBI. He was personally removed from office by Reichsführer Heinrich Himmler of the Greater Nazi Reich after he committed treason against the Reich. He was exiled to Cuba where he was killed by an assassin sent by his successor, Reichsmarschall Smith.
Biography
Background
Rockwell was born March 9th, 1918 in Bloomington, Illinois. He joined the United States Navy in 1941 and served as a non-combat pilot in World War II. At some point between 1953 and 1960, Rockwell became the Reichsmarschall of Nazi America, though the details of his rise to power are unknown. It is suggested that he joined the Luftwaffe after the capitulation of the United States in 1947, as he was shown to wear a Luftwaffe dress uniform upon his promotion to Reichsmarschall.
Rockwell had lost the confidence of Nazi officials in Berlin, namely the new Führer Heinrich Himmler. His interactions with his underlings were shown to be panicked, uncertain, and highly susceptible to influence. He was heavily reliant on the American Reich Bureau of Investigation director J. Edgar Hoover to gather intelligence on his enemies, particularly Oberst-Gruppenführer John Smith, whom he believed to be after his position of Reichsmarschall.
Rockwell plotted with Hoover to present proof that Smith was a traitor to Himmler, but Smith made a deal with Hoover beforehand to withhold the evidence. When Rockwell accused Smith of treason in Himmler's presence, but failed to provide any evidence, he effectively committed treason himself, and Himmler removed him from office and appointed Smith his replacement.
The disgraced Rockwell was exiled to Cuba. As a cover story, state media reported that Rockwell had chosen to retire from office and devote his time to managing his Cuban sugar plantations. He started planning his revenge against Smith and return to power, but Smith anticipated Rockwell would not go down quietly and took action first. An assassin sent by Smith infiltrated Rockwell's house and stabbed him to death while he was with two prostitutes.
Appearance & Personality
To be Added
Relationships
To be Added
Appearances
Gallery
To be Added
Notes & Trivia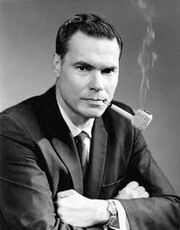 In real life, George Lincoln Rockwell was the founder of one of the first modern day neo-Nazi movements called the "American Nazi Party" in 1959. He served as an aviator in the US Navy from 1941 to 1960, when he was dismissed a year ahead of retirement due to his outspoken racism and politics. Although the Navy gave him an "honorable discharge" for his service record, Rockwell was disgruntled and blamed his removal on the Jews. He was assassinated in 1967 by a former member of his own group who had been expelled for wanting to introduce Marxist ideas into the party's policies.
References