Attention Needed - Article Stub
This particular article is still lacking the necessary information, images, and/or general formatting.
You can assist The Man in the High Castle Wikia by improving it.
| | |
| --- | --- |
| | There is an image gallery for |
"

I've kept my head down for so long, I forgot what it was like to stand up.

"

~ Frank
Frank Frink was the ex-boyfriend of Juliana Crain. He was also the brother of the late Laura Crothers, who was executed with her children, John and Emily, by the Kempeitai; Frank's widower brother-in-law is Bill Crothers. He was partially Jewish, as one of his grandfathers was Jewish, and thus his existence was precarious.
He worked in a factory creating replicas of pre-war antiques that are popular with Japanese collectors and also created some forgeries. After his arrest by the Kempetai and a series of other events, Frank wound up working with the American Resistance. He bombed Kempeitai headquarters, but unexpectedly survived the blast and was taken to the secret Jewish community of Sabra in the Neutral Zone to recover, where he was inspired to produce the "sunrise" protest art. He was later captured in Denver, Colorado by Chief Inspector Takeshi Kido and then beheaded.
Biography
Background
Frank Frink grew up in San Francisco under Japanese control, though he may have been born a few years before the invasion. He had a sister, Laura. His paternal grandfather was Jewish. He is uncircumcised.
In the beginning, Frank is the average American living in the The Japanese Pacific States. He works in a factory making replica antique guns. He worries that the government will discover that he is partly Jewish. He lives with his girlfriend, Juliana Crain, whom he met in a hospital after her bus "accident." After she becomes involved in the resistance and leaves to Canon City in the Neutral Zone, he is questioned by the Kempeitai. After a few days pass and they still cannot find Juliana, they kidnap him. While being held, it comes out Frank is uncircumcised. He talks to another captive (who happens to be a part of the Resistance) and refuses to tell them where she is even after he is beaten. The Kempeitai then lured his sister, Laura Crothers, and her children to the police station in order to threaten him to talk. After his continued refusal they were gassed, effectively killing them. When a woman is discovered to have Juliana's things, the Kempeitai believe they made a mistake and that Frank doesn't know anything. They let him go, but cannot amend things, as his sister and the children are already dead. He identifies the bodies and is devastated. He tells his brother-in-law who is shocked and angry over his family's death and blames him for the death of his wife and children. This leads Frank to, not only feel grief, but also feel resentment Finally he wants to punish the Japanese so he hollows out the barrel of one of his antique guns and convinces a seller of antique American artifacts to sell him bullets. At a rally for the Crown Prince of Japan he tries to find the courage to kill the Crown Prince, but ultimately backs out when a young boy sees the gun. The Crown Prince was then shot by a Nazi agent, causing Frank to flee and escape. When Juliana returns he acts cold toward her most of the time. However, when Juliana discovers what happened, she apologizes to Frank, who insist they must survive. Later, she and Frank got into an arguement over Juliana's safety and disagreements, due to her own decisions, but later apologize to each other.
To Be Added
Frank's face is severely disfigured after he survived the bombing. He escaped San Francisco and with the help of Mark Sampson, moved into the hidden Jewish community of Sabra. He began designing Sunrise propaganda posters for the Resistance. After Ed was stuck in the Neutral Zone, the friends were briefly reunited again.
Juliana, accompanied by smuggler Wyatt Price brought a film to Sabra to invite the Jewish community to join the Resistance. While the majority decline, Frank expressed his agreement with Juliana. Afterwards, they both share a moment of reunion.
Frank then left Sabra and moved to Denver along with Ed to spread Resistance propaganda. Unbeknownst to the duo, Childan betrayed them by revealing their location to Kido to get his shop back after it was taken over by a Japanese woman. Kido manipulates Ed's boyfriend Jack into revealing their location. Frank and Ed began painting the Sunrise sign all over Denver, inspiring hope for the people in the process.
However, Kido tracked him down and with the help of the Yakuza, kidnapped Frank. As they dragged Frank away, he told Ed to tell Juliana that he loved her. They drove to the site of Manzanar, and atop a mesa overlooking the desert, Kido offered Frank the honorable death by beheading, which Frank accepted.
Appearance & Personality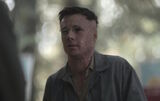 At first he is seen as a nurturing and quiet artist who wants to keep to himself and avoid trouble. As the story progresses, he is shown to be tenacious and selfish, on multiple occasions sacrificing the lives of others, Yet he also displays a willingness to sacrifice himself; he attempts to surrender himself to the Kempeitai when Ed is caught with the gun Frank had converted, and later participates actively in the Resistance.
Relationships
Frank's ex-girlfriend, whom he cared for after she attempted to take her life by jumping in front of a bus. He is supportive and nurturing of her, despite her lack of acknowledging his selflessness. She ultimately turns her back on him for Joe Blake.
He works at a factory with Ed and maintained a good friendship. Taking care of him, and visiting him when Ed's lungs were damaged by mustard gas, before the series starts. Ed goes out of his way to help Frank escape the Kempeitai, and does his best even under extreme pressure to protect Frank.
Appearances
Notes & Trivia
He can read Hebrew, but it is unknown if he can speak it. He also has at least a basic understanding of Japanese.
Despite being Jewish, Frank is uncircumcised.
He is only one fourth Jewish, as only his paternal grandfather was fully Jewish. The family name used to be Fink, but the same grandfather changed it so it would appear less Jewish and help hide them.
References