"

Destiny is in the hands of a very few men.

"

~ Adolf Hitler
Adolf Hitler was the Founder and Supreme Commander of the Nazi Regime and the Führer of the Greater Nazi Reich. During his leadership, he was secretly murdered and assassinated by Reichsminister Martin Heusmann, whose crimes were later exposed by John Smith.
Biography
Early Life
Adolf Hitler was born in Braunau am Inn in Austria-Hungary on April 20, 1889. He was a Roman Catholic but grew to despise the church later in his life. He originally desired to be an art student but was rejected by the Academy of Fine Arts Vienna. He earned a living mostly by selling his art in the streets of the German Empire. He fought in World War One and was awarded medals for his service.  
Rise to Power
Hitler later chose to enter the realm of politics, where his charisma and talent for public speaking served him well. He eventually rose to the head of the National Socialist German Workers' Party, also known as the Nazi Party, and took them in a much more radical direction. Hoping to restore the German Reich, he attempted to overthrow the reigning Weimar Republic in an attempted coup known as the "Beer Hall Putsch," but was jailed after his revolution failed. During his short time in prison, he wrote Mein Kampf (My Struggle), his autobiography, which would later form the core of Nazi doctrine. Years later, he was elected chancellor of the Weimar Republic and declared himself "Führer" (Leader) soon after.  Once his power in the newly formed "Third Reich" was secure, he began installing "racial hygiene" laws, which were imposed on the Untermensch, or sub-humans, such as Slavs, Jews, and the Romani.
Hitler soon decided to expand his Reich and began conquering or "annexing" neighboring countries holding a notable ethnic German population, such as Czechoslovakia and Austria. When he invaded Poland in 1939, France and the United Kingdom declared war on Germany. France was soundly defeated early in the war, while the U.K. held out for several years. In the series timeline, the United States did not intervene on the Allies' behalf, which enabled the Nazis to eventually conquer all of Europe, including the Soviet Union and Africa. Once Europe and Africa had been subjugated, the Nazis and their Japanese allies set their sights on the Americas. After a bloody struggle with the American military, the Nazis produced a revolutionary weapon capable of ending the war. When Hitler ordered this immensely powerful bomb, dubbed the Heisenberg Device, dropped on Washington DC in 1945, the remnants of the United States government officially surrendered. Though an American Resistance fought the occupation for another two years, North America was deemed conquered by 1947. Hitler was now the most powerful man on Earth.
At the time of the events in the series, Hitler is in his early 70s and rumored to be in poor health, possibly suffering from Parkinson's Disease. He is seen briefly in the television news coverage of VA Day.
Later he is seen in person at his mountain redoubt, where he is confronted by Rudolph Wegener, who intends to kill him at the behest of Reinhard Heydrich. Unfortunately for Heydrich, the series' version of Adolf Hitler, though physically ill, is in complete mental health and already aware that Heydrich sent Wegener to kill him. He is also aware that Wegener is sick of killing.
Hitler is able to convince Wegener that killing him would put in power people who want to immediately start a war with Japan and as result Wegener would be indirectly responsible for the death of millions of people. Hitler then gives Wegener the choice to commit suicide in exchange for protection of Wegener's family and reputation. In the end, Hitler watches as Wegener commits suicide while Heydrich is arrested for treason by Obergruppenführer John Smith.
Curiously, though Hitler put a ban on the film productions of the Man in the High Castle and seems to consider them a serious issue, he has an extensive collection of the films and has apparently come to realize that they show "what might have been". When Wegener arrives, he is watching a film about the siege and fall of Berlin. When Wegener mentions Tagomi's comment that "fate is fluid. Destiny is in the hands of men", Hitler responds "he was almost right. Destiny is in the hands of very few men", stating also that every time he watches the films he learns a little more.
He makes another appearance in the first episode of Season 2 when Obergruppenführer Smith delivers the latest film to him. He then plays it in his office and is horrified by what he sees, triggering Hitler into a rage. This was followed by Hitler ordering Smith to make finding the Man in the High Castle his highest priority.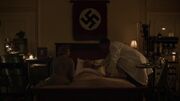 Later in the series, Hitler collapses and goes into a coma and then dies in his sleep. While it was originally believed that he died of natural causes, it was falsely revealed that the Japanese had poisoned Hitler in an attempt to provoke war. This initial news was exposed by Obergruppenfuhrer Smith and it came out that Hitler was poisoned by a faction of the Reich who wanted to go to war with Japan, to trigger a new World War. This same faction also attempted to assassinate the Crown Prince of Japan and frame the Japanese.  However, shortly after Hitler's death, the plot is exposed and it's architect, Martin Heusmann, is arrested along with his son, Joe Blake.
Appearance & Personality
Hitler is adept at creating an inspiring or even endearing presence. Though his aged physical appearance is no longer imposing, he appears to command complete obedience of his subordinates, and many Nazi officials appear to hold fierce loyalty to him. Beneath this facade, however, lies a sociopathic dedication to his National Socialist racial ideals, which has driven him to become one of the most brutal leaders in history. Having sat at the helm of a dictatorship that has conquered the world he has proven himself to be a cold, cunning, calculating individual, while simultaneously proving to be an emotional and logically driven man who will stop at nothing to achieve his ideal end.
Relationships
His relationship with Eva Braun Hitler, his spouse, is relatively unseen.
Appearances
Gallery
Notes & Trivia
Hitler is never seen in the novel. He is described as enfeebled and suffering from "syphilis of the brain." Though Adolf Hitler is de jure the Führer of the Greater Nazi Reich, de facto the one who now controls the Greater Nazi Reich is the Reichskanzler, Martin Bomann, The Chancellor of the Reich, who acts as the "protégé" and voice of Adolf Hitler. However in 1962, Martin Bomann dies, starting a political struggle in the Nazi hierarchy. The reader is left to presume that Reinhard Heydrich will win the struggle and will start World War III against the Japanese Empire (who, in the novel as in the series, don't possess the atomic bomb or the Heisenberg Device).
Adolf Hitler is also mentioned in Philip K. Dick's novel "The Grasshopper Lies Heavy" as a minor character. In this book, Adolf Hitler is captured by the British Empire, who after defeating Rommel in Africa were able to help the Soviet Union repel the German attack at Stalingrad, in the final assault on Berlin. After his capture, the German Reich capitulated and Adolf Hitler is put on trial along with the others Nazis leaders and executed for crimes against humanity.
In our timeline, Adolf Hitler committed suicide with his spouse, Eva Braun, during the final days of World War II. He had retreated into his bunker, the Führerbunker, in Berlin as the Allies and the Red army approached the city. Afraid that he would suffer a fate similar to that of the Italian dictator, Benito Mussolini (who was deposed and executed as a war criminal), he shot himself while Braun bit into a cyanide capsule.
References